So I don't usually give myself a pat on the back too often but these Pineapple Teacher Appreciation Gifts; so cute, so easy, so fast.
Supplies
Ferrero Rocher Chocolates
Green Cardstock
Hot Glue
I used my Cricut Explore and a grass shape but you won't need one for this if you don't have one. Just cut out some faux grass about 6″ wide and 2″ long. You'll roll up the "grass" around a pencil so that it'll stay in a spiral and then remove. Then roll again and glue in to place so that it stays just like a pineapple stem. Adhere to the top of your chocolate and that's it.
You can buy mini baskets at Michaels or Jo-Ann's or mini birds nest and deliver in those. I just think they are the cutest and take me to my MIL pineapple plantation. No two pineapples are alike just like teachers!
I created this fun printable to go along with it. It's sized to fit in a 5X7″ frame. Just head to the dollar bin and you can create this whole entire look for less that $2 a teacher!
Teachers Pineapple Printable <== GRAB THE PRINT HERE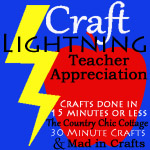 I'm a craft-loving, movie-watching, Judge Judy addicted woman. As a mother of 4, I am always looking for new adventures. Whether that be making blanket forts or finding a new medium to play with, I am always up for the party!