Make this easy DIY Felt Vest for kids using the pattern and create it for your little Paw Patrol Fan.
Paw Patrol has released a new PUP-tastic! 8-DVD Collection Boxset so create your own felt vest for your little pup to celebrate the fun new collection. Malakai is a huge fan of the all-new Robo Dog Rescues especially and makes it known each time the DVD goes to the menu.
Supplies for your DIY Felt Vest
1/3 yd Felt
Scissors
Hot Glue
Paw Patrol Patch
To make this vest is super easy. Click on the photo below and you'll be taken to the link to download the Felt Vest printable pattern. Print it off and then you'll match your pieces up and then cut it with scissors. The shoulders of the vest need to be slanted so that is where you'll use your hot glue. Glue on the paper patch and they're on their way.
This felt vest can be worn almost immediately for your little pup to catch up on all the adventures of the Pup-tastic! DVD collection.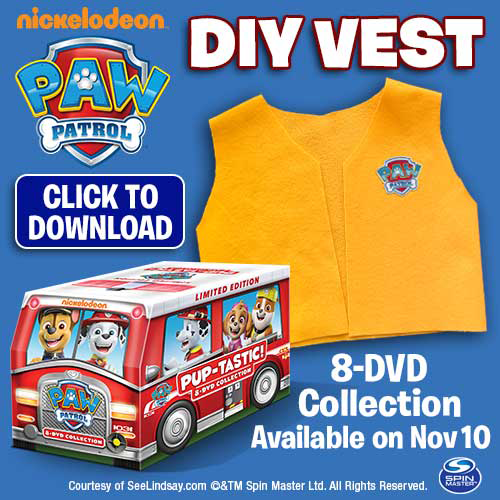 This holiday season, the PAW Patrol®, produced by Spin Master Entertainment, is on a roll with their biggest collection of rescues on DVD in a limited edition gift set, PAW Patrol: PUP-tastic! 8-DVD Collection. Fan-favorite pup Marshall lends his fire truck theme to this gift set and invites viewers to join him and the PAW Patrol for over 12 hours of heroic rescues.
To add even more fun and action-packed adventures to the collection, for the first time, Robo Dog will get his very own DVD, PAW Patrol: Robo Dog Rescues!, which is all-new and only available in the PUP-tastic Collection! Just in time for the gift-giving season, this paw-some gift set will be sought out for the biggest PAW Patrol fan or even the newest little one starting their DVD collection. Grab it at your favorite retail stores now!
Pup-castic! DVD Collection Includes:
PAW Patrol: PUP-tastic! 8-DVD CollectionDVDs:
PAW Patrol: Robo Dog Rescues!*Only available in this PUP-tastic Collection!
PAW Patrol: Ultimate Rescue
PAW Patrol: Jungle Rescues
PAW Patrol: Pups Chase a Mystery
PAW Patrol: Pups Save Puplantis
PAW Patrol: Sea Patrol
PAW Patrol: Summer Rescues
PAW Patrol: The Great Pirate Rescue!